Guidebox Compact
Boîtiers pour rails DIN (EN 60715) avec bornes intégrées
Caractéristiques 
Guidebox est un boîtier pour rail DIN (EN 60715) avec bornes intégrées. La solution technique des bornes intégrées permet de réaliser des produits aux dimensions particulièrement réduites en largeur.
Le GUIDEBOX COMPACT est un produit qui permet au Client de connecter 5 pôles avec 4 points pour la connexion en parallèle. Le tout en 6,2 mm d'épaisseur avec une hauteur du boîtier à partir du rail DIN, de 76,9 mm seulement. Grâce à ces caractéristiques, il est particulièrement intéressant pour les applications de conditionnement du signal ou pour les optoisolateurs. Avec la famille de boîtiers, GUIDEBOX propose donc une gamme complète pour les fabricants de dispositifs exigeant une épaisseur réduite d'installation.

Spécifications techniques
| | |
| --- | --- |
| Nombre de voies | 5 |
| Couleur | Vert |
| Borne | 15A; 120V (250V); 2.5 |
| Dimensions | 76,9 x 99,1 x 6,2 mm |
| Matériau | Polyamide (UL94-VO) |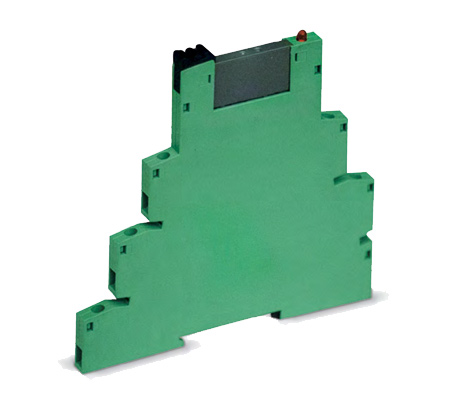 Relay Socket
Ce boîtier a été conçu pour contenir de petits relais.
Facile à démonter au moyen d'un levier. Son épaisseur de 6,2 mm, permet de monter un grand nombre de relais dans un espace réduit.
On peut le fournir avec ou sans parties métalliques.
La partie supérieure du boîtier peut être personnalisée avec un moule à un prix particulièrement réduit.
Description

1) Base

2) Couvercle

3) Ressort avec crochet

4) Borne

5) Extracteur pour relais*

* Uniquement pour la version porte-relais
Login or register to see the complete catalogue with prices.
Enclosure without assembled terminals